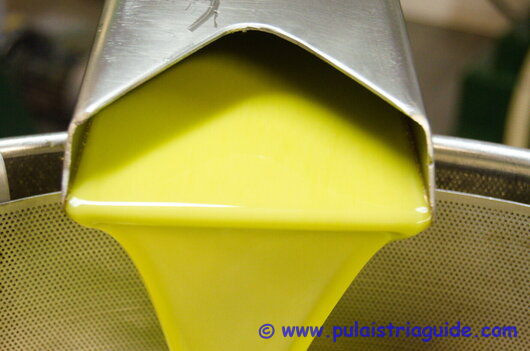 Interview... in the mill
Here I am again with a new article. Writing it was not an easy task at all because of some "technical difficulties" which tried to discourage me but did not succeed at the end. Lost files, computer possessed by the devil and cell phones passed away, these were my "technical difficulties"!
I am a really small tiny producer of olive oil and each October like everybody else in Istria, after a year of work in the grove, I take the harvested olives to where the magic takes place, to where olives become oil, the green gold of Istria, to the oil mill.
In the area where I live, Fažana, there are several mills. Some of them are new, some are quite old mills, where my grandparents also brought olives for pressing. One of the oldest in Istria is "Baioco" oil mill, managed by Andrej Đurić together with his wife, and my dear friend, Ester Geissa Đurić. Ester, although always full of commitments, ideas and things to do, decided to spend some time with me talking about her mill.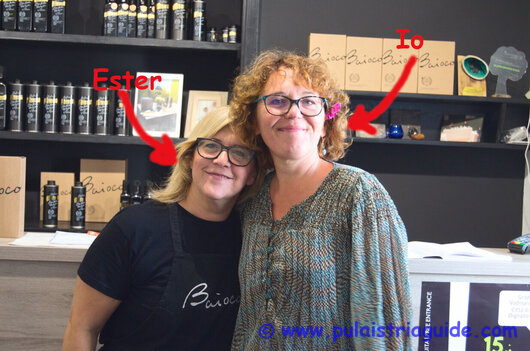 Besides her work in the oil mill, Ester is a wife, a mother and she is also in charge of "Agroturist", an association that gathers small farmers in Vodnjan area. She has a degree in Agriculture from the faculty of Rijeka with a very current thesis concerning the reuse of olive processing waste in the cosmetic and food sector.
After this brief introduction we can start our interview with some questions.
Q: Nice to see you again Ester! Is it a quiet day today?
A: Yes, well, let's say relatively quiet. We are waiting for some pupils for the visit to the mill ...
Q: Ah ok, then we will try to proceed quickly. My first question is how old is the mill?
A: The mill is 101 years old. The management passed through many hands, the municipality is the owner, it was owned by Yugoslavia and in the 80s my husband's family took over it and now we are here managing it.
D: Your working roots are not really in the oil mill, so, my question is why did you decide to work in the mill?
A: Yes, you are right. I did various jobs before I got to do this but I have always enjoyed working with plants and flowers. I lived in Venice for some time where I learned the art of flower arrangements but then my heart and my feelings brought me back here to Istria. I also had a flower shop here in Vodnjan, then I decided to help Andrej here in the oil mill because he was overloaded with work, too busy and now I'm here to talk about it with you. I got involved so much in this job that I decided to study Agriculture and two years ago I graduated with a thesis on olives.
Q: Do you press only your own olives or also olives of other producers?
A: We have our own olive trees, but most of the production comes from the surrounding farmers. We work a lot with small producers, who have small olive groves still inserted in the rural environment made of aromatic herbs such as lavender, kantarion and wild oregano which with their perfume contribute to the complexity of the oil scent produced in this area. The producers pay nowadays more and more attentition to the harvest and maintenance of the olive grove. Some are also certified as organic agriculture and we as an oil mill are also certified for the production of organic oil.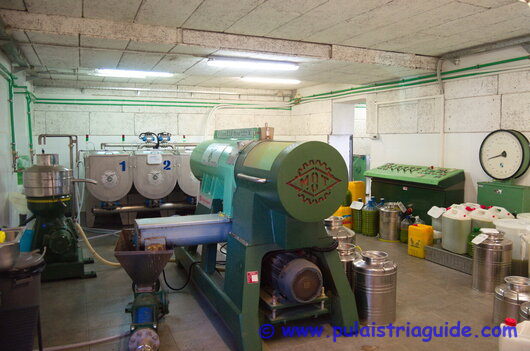 Q: What kind of pressing do you do?
A: We have a closed production chain. Once the olives enter the production cycle they no longer come into contact with the outside. The type of pressing is cold pressing.
Q: Can you tell me more about the oil produced in these parts? Is it a quality oil?
A: Here you can find varieties (cultivar) of olive trees that come from Italy such as leccino or pendolino, but of course you can also find indigenous cultivars such as Buža, Bielica, Rožinjola or Karbonaca. The oil produced can be of only one of these varieties (very popular is Buža and Bielica oil) or a mix of olives, that is called blended olive oil. In any case, the quality of the oil is always very high and in recent years it has been continuously improving. Producers no longer harvest olives when they are fully ripe (more quantity of oil produced) but when they are half ripe (less quantity produced). This type of harvesting leads to a lower yield but to a better quality of the oil produced from half ripe olives.
Q: Do you remember a particular year for production? The so-called extraordinary year?
A: Certainly an extraordinary year was 2016, both for the quantity and for the quality of the oil produced. The weather conditions and the almost absence of olive fly, one of the worst enemies of oil producers, has helped to obtain this record.
Q: How long can the olive oil last?
A: By law, the expiration date in Croatia is within two years, but if well preserved it lasts much longer. However, it would be better to consume it within a year as the poly-phenols present in the oil decay.
Q: What is the best way to taste olive oil?
A: An education is necessary to taste the oil, as happens with wine. In the oil, the aromas and flavour must be evaluated. In the scent of olive oil you look for field herbs, dried fruits and vegetables. In the flavour you assess the balance between the taste of the olives, the bitter and the spicy. Spicy in particular plays an important role because it indicates the presence of polyphenols. Poly-phenols are substances that are good for health and help us stay young by fighting free radicals. You taste the oil this way: you pour it into a glass and heat it with the warmth of the hands. After it has heated up, it must be sniffed deeply to evaluate the aromas and then a small quantity of oil must be savoured to evaluate its taste.
My note: there are techniques for the olive oil tasting. They are easy to do but complicated to explain and write and for this I suggest a visit to the mill;)
Q: Has the role of the oil mill changed in recent years? Besides pressing, do you do other activities?
A: The oil mill is increasingly becoming a point of aggregation and culture. Tastings, visits and school groups are organised. New projects related to olives and their processing are being carried out. For example, waste is also produced to make oil and it has a great value. For example, liquid waste that is water mixed with pulp can be an excellent fertilizer and crushed olive kernels can also be used as fertilizers or to produce energy. For example, we are investing in this direction and our machines are able to separate the olives' kernels from other waste. With the stones we are able to create a circular system using them as pellets to heat the mill.
Q: Do you have new plans for the future?
A: We are investing in increasingly advanced machinery that allows the reuse of resources and we have special consideration for organic products. A sector that certainly interests me is that which concerns the various possibilities of using olive oil and its production waste in areas such as cosmetics and fertilizers. Another project is that of creating an educational area, a kind of museum of the oil mill.
Q: How is Istrian oil positioned in the world?
A: Istrian oil is highly valued internationally and is often awarded in competitions. "Flos olei" (the Michelin guide of olive oil) has awarded Istria the title of region with the best oil in the world for the fifth consecutive year.
The Bielica oil from our oil mill was also awarded in France with the bronze medal at the A.V.P.A (https://www.avpa.fr/) in Paris. In the 2019 we also won in New York the golden medal with our oil of Buža.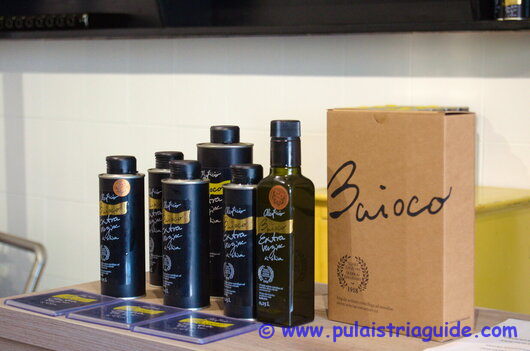 Q: Ok Ester, and for the end can you explain why a litre of EVO (extra virgin olive) oil cannot cost 3 euros?
A: Without going into detail, consider that only the pressing costs 2 kn per kilogram of olives. To make a litre of oil on average we can consider that about 8 kg of olives are needed. This means that just pressing the olives costs 16 kn (about 2 Euros). Then you have to consider that the price also includes the work necessary to produce the olives, the cost to collect them, the analysis and certification of extra virgin olive oil, transportation, packaging and distribution. It is clear that therefore a product that costs only 3 euros per litre cannot be extra virgin olive oil.
Thanks Ester for the time you spent with me and I'll see you next time here in the oil mill ... maybe for a tasting. I remind you that at the "Baioco" oil mill it is possible to take a guided tour, taste and buy extra virgin olive oil of various qualities also in retail.
To contact the mill these are the contact details:
Mobile: 00385-(0)991-904990
email: Ova e-mail adresa je zaštićena od spambota. Potrebno je omogućiti JavaScript da je vidite.
Web site: https://www.baioco.eu