Pula's Castel, a place full of surprises
If you are in Pula the second week of July you will for sure notice that there is a special mood in the air. The town gets coloured in yellow and black. Banners, leaflets, manifests e also buses invite you to follow the Pula film festival. This year the festival celebrates its 65th birthday. Not too bad for the oldest e best known film festival of the former Yugoslavia. It is not a common cinema that hosts the festival but it is the Pula's Amphitheatre itself, one of the most beutiful and particular open air cinemas in the world. Of course it has become old but it still preserves its charm and the local people know it. Each citizen of Pula can not miss the date with the first, opening day of the festival.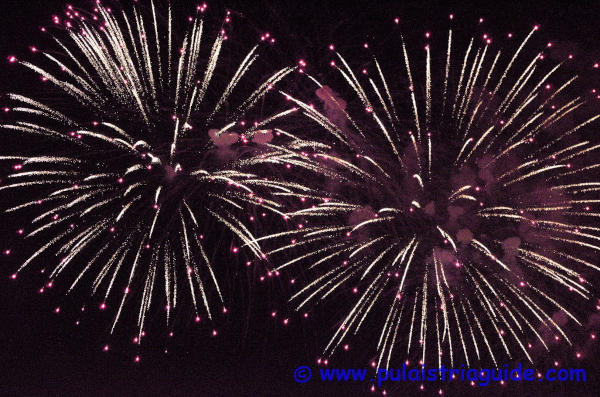 There are fireworks each year to celebrate the opening of the festival and they catch children's and adult's curiosity. Everybody is on the streets of Pula looking at the harbour from where the fireworks get launched. Each family has its own place from where to admire the show. I have my own preference as well and that's the mighty Venetian fortress.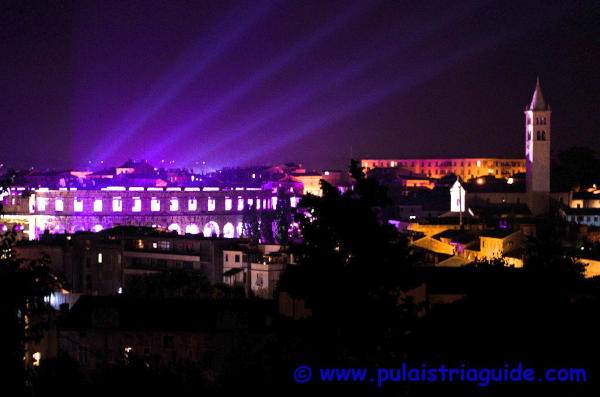 For me this is a magical place from where I can admire the whole town and enjoy the fireworks. The fortress is an evocative place. It is a huge rectangular building constructed by the Venetians in the 16th century and it was used also by the Austro Hungarian Empire. It is placed on the highest of the seven hills of Pula and from there the city's bay was under control. Although its cannons were there to make fear to the enemies, they were never used actually. Under the hill there is a net of tunnels which in the hot summer days is the coolest place in the town. The tunnels were built by the Austrians to give shelter to the people of Pula in case of war. Now they are an interesting and curiuous city's attraction.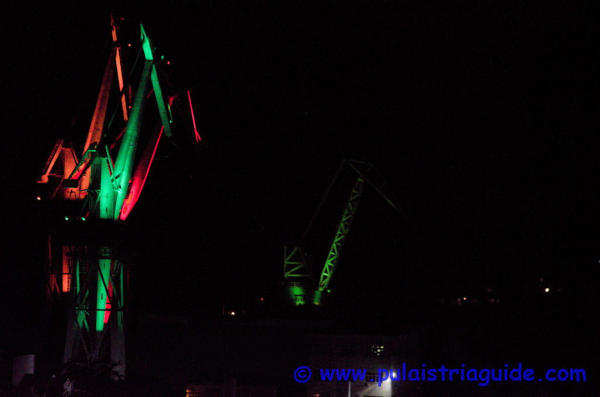 Beutiful by day, spectacular by night, the Venetian fortress hosts today the Historical and Naval Museum of Istria. It is also a pretty location for concerts and theater plays.
This is the place where I go each year to watch the fireworks and to admire the amazing scene of the Amphitheatre seen from this point. From here you have the impression to hold the entire town on the palm of your hand. The Arena, saint Antony's church, the cathedral, the "lighting giants", saint Francis church, the small roman theatre…… they are all around you.
I have to leave you now beacuse I have to get ready for the tonight's Film under the stars.
See you in the Arena and enjoy!