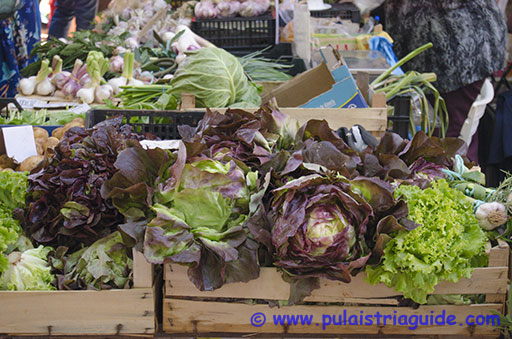 A morning to the Pula's Market
What do you do on Saturday morning in Pula? Of course that depends on what you like doing and I like a lot going to the green market in Pula. Recently there have been built several shopping centers, malls where you can buy whatever you need. For me though there is nothing like the farmer's market. Colours, scents, confusion, people chattering make the market not only a place where to buy things but also a place to stroll, to meet and to chat with people, to see which fresh fish you can find at the fishmarket, to buy some fresh bread and have a coffee. Pula's market is a very lively place. It is a place full of history and points of interest. If I can, I always like to include the market in a guided walking tour. It is the right place to have a break, buy some fresh fruit or just have a drink.
The market, tržnica (trᴣni:tza) in Croatian language, is made of two parts, the market hall and the open-air market. In the open-air market you can find fresh fruit and vegetable stalls and also olive oil and brandy stalls. In addition to the common products here you can find sauerkraut, the soured cabbage, very much used in the local dishes such as soups or as side dish to Istrian sausages. In autumn you can find also mushrooms from central and northern Istria and in spring wild asparaguses. One of the dishes you have to try in Istria is omelette with wild asparaguses. In April the City and local chefs prepare and offer to the population a huge omelette with asparaguses. This event traditionally takes place at the market in Pula.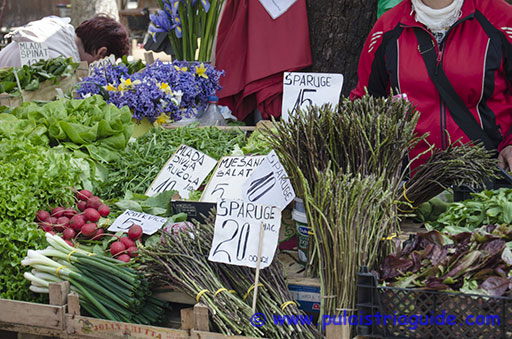 The market hall is in a two-storey Liberty building made of iron and glass. On the ground floor there are butcheries and cheese stands on one side and fishmarket on the other. As I said before, if I am to be in Pula, a walk to the fishmarket is mandatory. Perhaps I already know that I'm going to buy nothing, but still for me a stop at the fishmarket is like paying a visit to a friend to see how is she doing, how was the catch of fish, is there some "poor" fish to buy in order to prepare some traditional dishes with little money. It seems nowadays that there exist only sea breams and sea basses on the global market.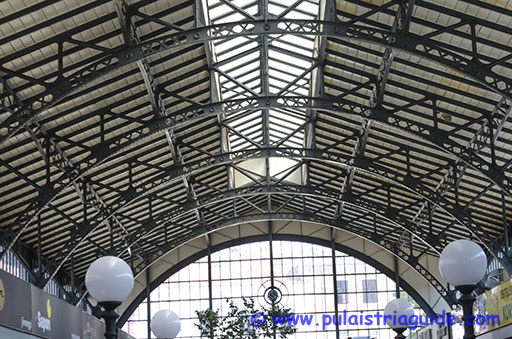 But at Pula's fishmarket it is also sold less known fish which is also very tasty. I come from Fasana, a little fishermen's town known for sardines fishing. Of course I love sardines but grey mullets, common pandoras and surmullets are also very good and in the right season you can buy them at the fishmarket. There are also small size fish to be used for cooking the traditional Istrian Brodetto (kind of a fish stew), congers and also small sharks such as small spotted catsharks and common smooth-hounds.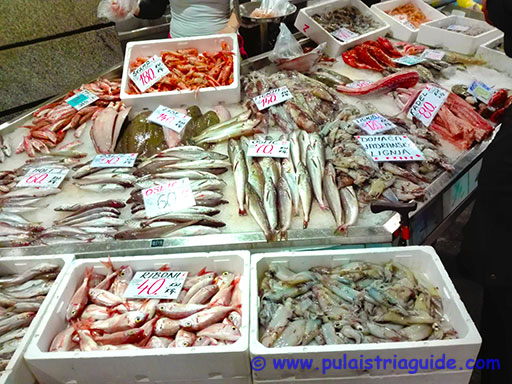 In winter if I have spare time and there is a sunny day, I do not miss a coffee in one of the cafes on the terrace on the first floor of this buautiful Liberty building. It is but in spring, by the end of April, that I enjoy the market most with its blooming horsechestnut trees that with theirs rich and beautiful crowns make shades on the stalls full of fresh spring vegetables and fruit.