Olive crop in Istria
It is time of great turmoil mid October, early November in Istria. The confusion and the chatter in different idioms of summer tourists give way to the noise of tractors, chainsaws and "field" discussions in Čakavski, Istroveneto and Istrioto dialect.
The olive harvest has started.
An open-air theatre
"Donesi mi škalun .... da da čekaj malo", says somebody in Čakavski, and in the field nearby the scene repeats itself in Istroveneto: "Su dai porteme el scalon ... Si si, un fià de pasiensa te lo porti". And if you are in the area of Vodnjan, Galižana or Šišan, you will hear in Istrioto:"Portame 'l scalon … si si speta vola ti je primura" ("Bring me the ladder...yes, sure, just wait a bit")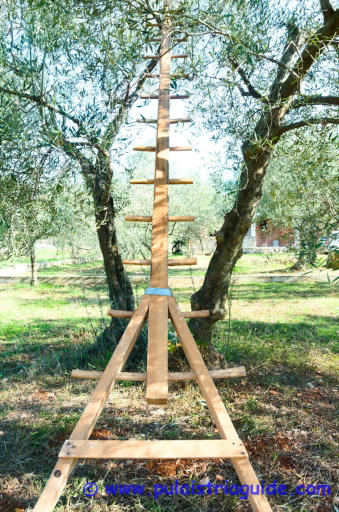 Regardless of the dialect, in all Istria there is a lot to do. Olives are harvested, branches are cut, nets are laid on the ground, "šakuc" are filled and, of course, people talk. There is a lot of talk about everything, about how children or grandchildren do at school, what has been cooked or eaten, how olives are this year and how many kilos will be collected. Obviously, yield estimates are made and forecasts of how much oil will be produced at the end of the harvest. Many stories are told, stories about how the countryside has changed, how the olive harvest has changed over the time and how it was done "when I was little".
How it used to be
My mum tells me that when she was young, in the time of Yugoslavia, olives were harvested much later than now. There was a precise date to begin, November 29th, when the day of the Republic was celebrated ... the socialist one of course. Wasn't there any better way to pay homage to the Republic and Marshal Tito than working all together on the field? ;-))
My mum remembers that it was cold at the end of November and picking olives by hand was not always a pleasant experience. For this reason, bonfires were made to warm hands but also to grill some "Kranjska kobasica", Kranj sausage, to drink a few glasses of the farmer's Istrian Malvazija and also to tell many stories. There were no chainsaws for pruning and cutting branches, there were no tractors for carrying olives but carriages pulled by Moro or Gigio, the tireless donkeys..
How we do nowsays
Today the harvest is partly done as it was once. The whole work is a little easier than in the past thanks to the tools such as chainsaws, shakers and brushcutters. Moro and Gigio have (unfortunately) been replaced by more powerful and less moody tractors and the harvest is done in mid-October when it is usually still warm and picking olives can really be a pleasant experience.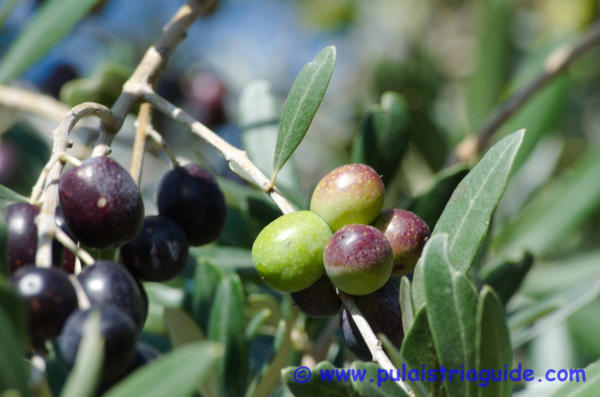 One thing for us has remained the same as in my mum's time, the olive harvest is still done in a traditional way, that is, by hand and without the aid of modern equipment. In my opinion, manual harvesting is important because by doing so you prevent the olives from falling to the ground and avoid the speeding up the degenerative process.
Compared to the past, more importance is given today to the quality of oil rather than to the quantity produced . For this reason, olives are harvested when they are about half-ripe which happens around mid-October. This leads to a lower yield in production but better organoleptic quality and nutritional properties. In the past, however, to maximise the quantity, but at the expense of quality, olives were harvested when they were fully ripe. For more details you can also read the interview with the manager of the "Baioco" oil mill in Galižana and if you like, you can also take guided tours and tastings of extra virgin olive oil.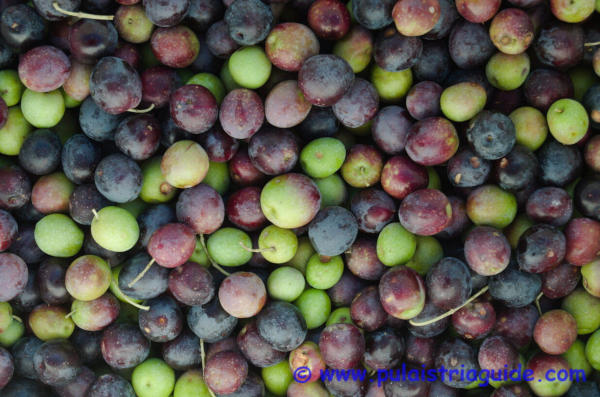 In order to maintain the characteristics of the olives at their best, we take them to the oil mill for pressing as soon as we have collected the quantity necessary to make a mill. This means making more trips to the oil mill than in the past times when they were brought to to the mill only at the end of the harvest, an activity that could last many days.
A typical day (but where did Kranj's sausage disappear?)
... here is a typical day of mine during the harvest season.
Wake up at dawn ... no no...I'm just joking,I don't get up at dawn to go harvesting.In autumn in the olive grove the ground and the grass are covered with dew which is very beautiful but also it can be very slippery. It is not a good thing for the olives to be wet when harvested because they get stacked and by stacking wet olives you can do a big damage. So, as soon as the sun warms the trees, dries the grass and olives, my family and me are steady ready on the field.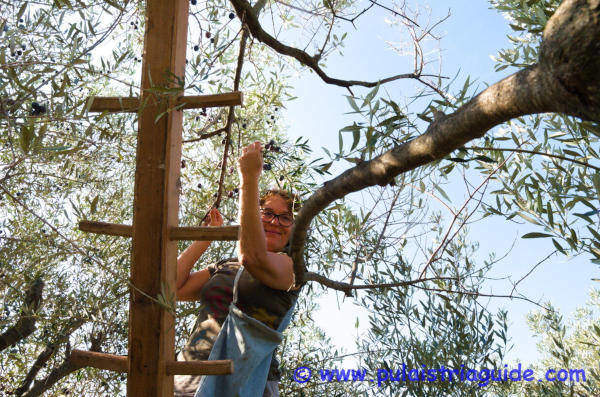 We dress in comfortable and resistant clothes, suitable shoes and we equip ourselves with the indispensable "šakuc". The ones we use are my mum's handmade "šakuc" and to collect olives they are the best.
After the "dressing" we choose a tree, we bring the ladders ("škalun") and we begin to collect the olives by hand. When the "šakuc" is full we empty it in the characteristic perforated red boxes and we continue this way the whole day.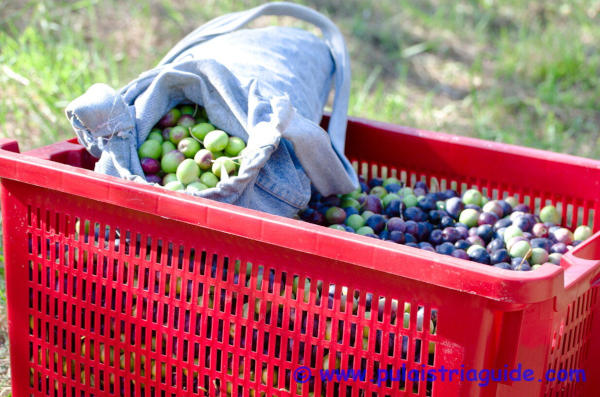 But ... where did Kranj's sausages disappear?
Well, yes, they are still here. Taking a little break in the middle of the day is always a good thing to do. So we have something for lunch (perhaps grilled Kranj's sausages! or Istrian prosciutto or even a traditional Čripnja -food cooked under the bell), we talk about olives and olive trees and we estimate how much we have collected and how long it will take to have the right amount of olives to take them to the mill. Lately we also got into the habit of making salt-free bread at home so we can have it with freshly made oil ... Ah what goodness!
The use of oil in the kitchen and how to taste it at its best could be an interesting topic for a future blog ... what do you think about it?
Sometimes picking olives is really relaxing, the sun rays are still warm and you are immersed in the green countryside. This is not always the case. Sometimes it rains or it's cold, but the idea of ​​harvesting the fruits to get your own oil puts up with everything. Finally at the end of the day, if the right amount of olives has been harvested, we bring them to the mill, where the olives get squeezed and out of which we get our own special olive oil.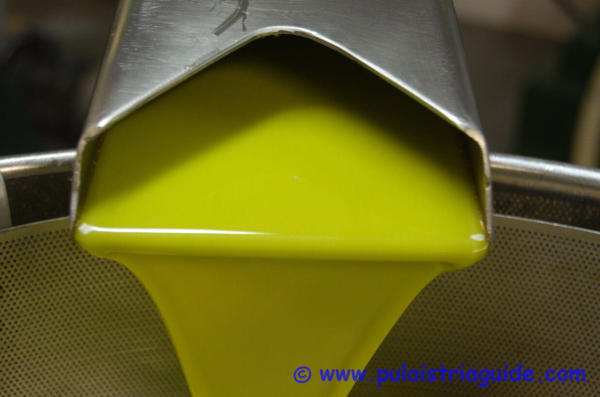 And an ending

Now, I have told you a few things about olive crop and this real experience but of course it is not possible to tell everything in a blog. As a tour guide I like to convey emotions that come from my land, from the Istrian countryside. The olive harvest is a unique experience that has always been cyclically repeated in my lands and that at least once in a lifetime deserves to be experienced personally or at least told. If you are interested in trying your hand at the harvest and are around here in October please contact me freely. Otherwise, if you happen to be here also in other periods of the year I can introduce you to these places made of olive groves, dry stone walls, kažuni and olive crop stories.
I hope you have enjoyed this blog about olive crop and if so, please leave a comment and share it on your social account! Thank you.
See you next time and ...
Enjoy P.I.G.