Traditional Istrian Christmas dishes
And after the interview comes the cooking
When it comes to cuisine I have to admit that I love to taste and prepare dishes that come from other cultures and traditions, and that's because I'm actually a curious person who doesn't hold back when it comes to experimenting new things. My kitchen, the one I share with my husband ;-), is a small laboratory that smells of oriental spices, but also of Mediterranean aromatic herbs. In our kitchen compartments you can find seaweed and miso, but also basmati rice and carnaroli rice, local, Italian and French cheeses, and even peanut butter! You can find home made quince jam made from quince from our tree, istrian Malvasia white wine and italian prosecco di Valdobbiadene . Our cuisine smells of Indian, Vietnamese, Chinese, Arabic, Japanese, but also Italian and of course Croatian food. The aroma of our dishes, regardless of the region they come from, is always authentic. In the kitchen we like to experiment, try, taste and discover cuisines that were unknown to us until recently, we like to treat our palates to flavours from other parts of the world. It's also a way to get to know those places we've never been, to get to know new flavours and aromas, and in a sense, to travel while being in our kitchen.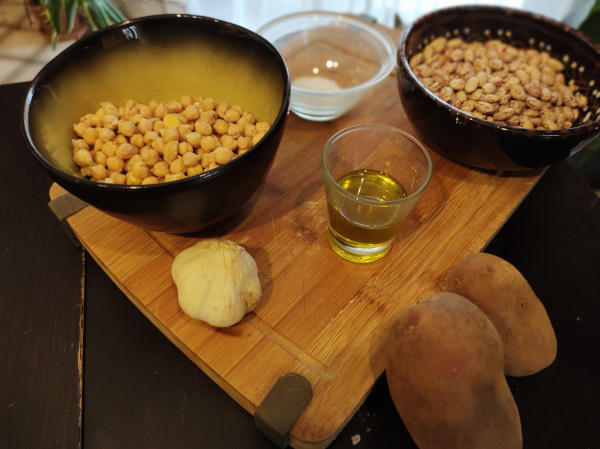 But this year, for several reasons (see the same blog part 1), I decided to return to what is close to me, and that is traditional Istrian cuisine, this time to Christmas dishes.
Getting the ingredients at the market in Pula
The Market in Pula is the place where this little Christmas cookbook starts and as those who follow my blog already know, it is one of my favourite places in my home town. Pula market blog
It was right here that I bought the ingredients for my Christmas dishes. I decided to wait patiently in line in the cold to buy sauerkraut from that lady I know and who I always buy from and who I know has her own local vegetables. I don't mind queuing, and it seems like that also those other people do not mind queuing either. We are aware that we buy something good and local from that lady who comes to the open-air market every morning even if it is raining, windy or hot. Then I went to the covered market to the butcher I trust to buy meat for Kapuz sa mesom and chicken for fuži sauce. Then I head back to the open-air market to buy some free range eggs from another lady I know and which I need to make fuži dough. I go to the market because those who sell there can tell me the stories of their products. The supermarket can't offer me that, I can only take what I need off the shelf.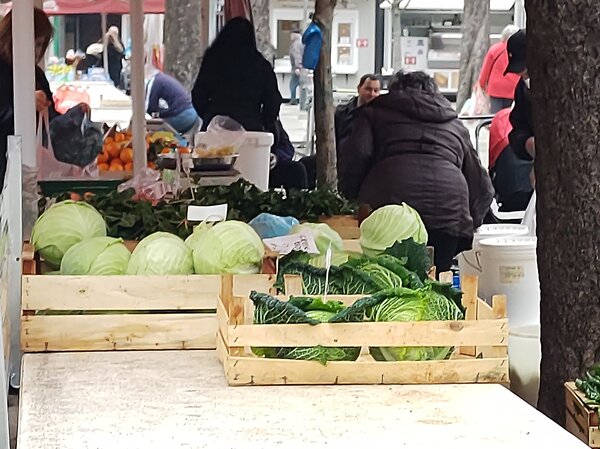 From the market in Pula I moved to my kitchen where later all these ingredients turned into Christmas Eve and Christmas dinners. The preparation of these dishes was a team work which, together with my mother, who has many years of experience in traditional Istrian cuisine, and my husband, who contributes to all dishes with his refined touch, led to a truly exceptional result!
And now let's cook!
For Christmas Eve, we prepared according to tradition:
Maneštra sa slancem (thick chickpea soup) - is a typical thick soup made from pureed beans and whole chickpeas
Posutice sa bakalajom (pasta with codfish) - is a typical pasta made into small squares that is served with white cod sauce enriched with salted sardines and olive oil
For Christmas lunch we served:
Fuži sa šugom od kokoše (pasta with chicken sauce) - fuži are a typical Istrian pasta with a characteristic shape, see photo below, served with chicken sauce
Kapuz sa mesom (sauerkraut with meat)- traditional dish that is cooked by combining sauerkraut with pork and beef
Fritule (doughnuts)- it is a traditional fried dessert that is served all year round
All this, as the photos prove, was made by our hands
The following is only one recipe from the above mentioned, and that is Fuži sa šugom od kokoše (pasta with chicken sauce), which is slightly different from the original recipe, because, unfortunately, nowadays it is not so easy to find hen that was once used for sauce! Instead of old hen that makes a good soup , but also a good sauce, we used chicken and the result was also very good!
A recipe for you
FUŽI
Fuži are a typical Istrian egg pasta with a tubular shape. There is a festival dedicated to fuži and other traditional pastas which takes place every July in the village of Žminj.
For fuži you will need: White flour, a pinch of salt, 1 egg, a little water, a roller, a knitting needle and a lot of patience.
Oh yes, because after you make a dough from flour, eggs, salt and water, leave it to rest for an hour, roll it out with a roller, cut it into 3x3 cm squares, you also have to deal with the needle. The knitting needle serves to give the fuži their characteristic shape, and this is done as follows: take the corner of the square of dough, put the needle on it, press with your index finger and roll the dough with the needle until you reach the next diagonal corner. Clear?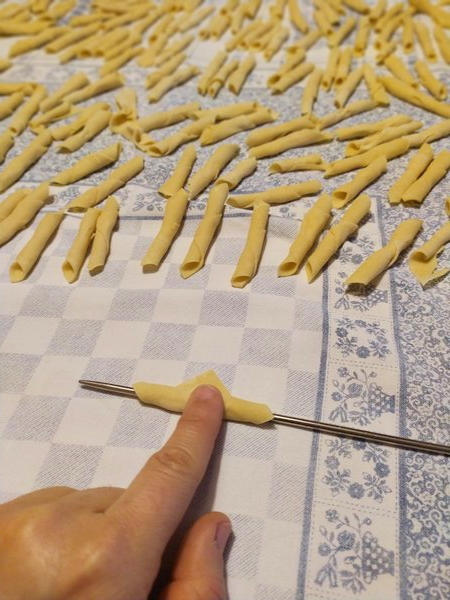 ŠUGO OD KOKOŠE (hen sauce)
It is a sauce made of pieces of hen or rooster cooked in stew and traditionally served with fuži or gnocchi.
For the sauce you will need: chicken drumsticks, wings, back, then onion, garlic, salt, pepper, tomato and rosemary. Like I said before, I didn't find hen so I used chicken.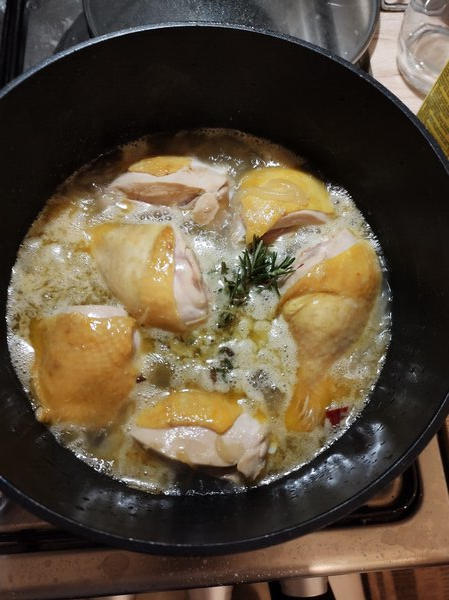 First of all, sauté the finely chopped onion together with the garlic over a low heat and slowly. Be careful not to burn it or cook it too short as otherwise it will be difficult for you to digest. Then add pieces of chicken and tomato to the sauce and cook over low heat for about 2 hours.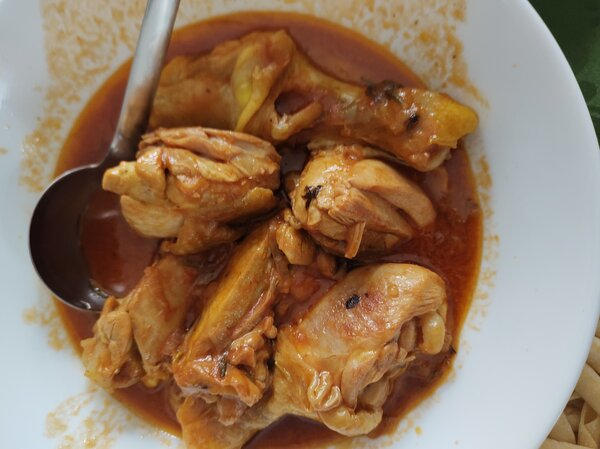 You can add stock and white wine during cooking and of course don't forget pepper and rosemary.
Enjoy your meal!
These recipes, like many others, are an integral part of my land. They are flavours that you find in traditional dishes and in the same way they are scents that awaken childhood memories in me and make me feel at home. These recipes are stories about people and places, they are stories from the distant past, but also from a more recent one.
Are you ready to go with me on this new adventure of taste and aromas? With this blog I officially open a new section called FOOD AND WINE IN ISTRIA.
See you soon with some new and old food and drink stories!